"ReWrite of Spring" is a tribute to Igor Stravinsky's "Rite of Spring" – one of the iconic modern masterpieces of music with decisive influence on the development of jazz music. "ReWrite of Spring" by internationally renowned saxophonist, composer and conductor Lars Møller, is the first major project from his pen as director of the Aarhus Jazz Orchestra.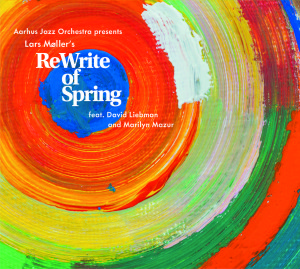 With melodic, rhythmic and dramatic inspiration from Stravinsky, "ReWrite of Spring" spans transparency and ambiguity, virility and funk, exploiting the full expressive palette of one of Northern Europe's best big bands and topped by contributions from two world-class musicians, saxophonist David Liebman and percussionist Marilyn Mazur.
While deeply rooted in American and European orchestral traditions, "ReWrite of Spring" is a vital artistic statement representing a creative voice in the quest for a personal big band sound.