AARHUS JAZZ ORCHESTRA
the big band
The Aarhus Jazz Orchestra (AJO) is one of Scandinavia's leading big bands, performing more than 70 concerts annually. AJO started out in 1977 as Klüver's Big Band, under the leadership of Jens Klüver, and is today funded by the Danish Arts Council Under its new Artistic Director Lars Møller.
AJO has developed its musical profile towards being a creative contemporary Big Band strongly influence by American, European and World Music roots. The band has performed in Europe and USA with a many of the most important jazz musicians of our time In 2011 and 2012, concerts have included a three-week tour of USA with Grammy-winner Kurt Elling, concerts with guitar icon John Scofield and drummer Bill Stewart, with pianist Mulgrew Miller and Jeff Ballard. Musicians like Thad Jones, Clark Terry, Joe Henderson, Abdullah Ibrahim, Dee Dee Bridgewater, Carmen Bradford, Deborah Brown, Lee Konitz, Joe Lovano, Bob Mintzer and Kenny Werner have all performed with the band In recent years.
AJO has done projects with Kala Ram- nath and Abhijit Banerjee from India and musicians from Gambia in cooperation with Jon Balke and Geir Lysne. Since one of the band's most important objectives is to enhance the knowledge and enjoyment of jazz among young and old alike, an important part of Aarhus Jazz Orchestra activities is aimed at elementary and high schools.
http://www.aarhusjazzorchestra.dk/
Aarhus Jazz Orchestra on Facebook
Back to top of page

DAVID LIEBMAN
soprano saxophone and wooden flute

David Liebman's career has spanned over four decades, beginning in the early '70s with his "apprenticeship" period, performing and recording in the groups of drummer Elvin Jones ("Live At The Lighthouse") and Miles Davis ("On The Corner"). Since then he has led his own groups (Lookout Farm; Quest; The Dave Liebman Group) featuring musicians such as John Scofield, Richie Beirach, Billy Hart, Adam Nussbaum, Al Foster, John Abercrombie and Vic Juris.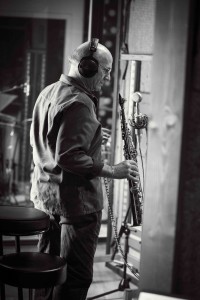 Liebman is featured on more than five hundred recordings with several hundred original compositions published His repertoire is among the most eclectic of contemporary artists, ranging from original adaptations of standard material to 20th-century inspired classical music.
As soloist in a contemporary classical setting Liebman has performed with Klangforum (Vienna, Austria) and Ensemble Intercontemporain (Paris, France).
In the education field he is a renowned lecturer, producing several instructional DVDs and books.  He is the Founder and Artistic Director of the International Association of Schools of Jazz (IASJ) and is currently Artist in Residence at the Manhattan School of Music (NYC). Liebman has consistently been placed among the top three in the Downbeat Critics Poll for Soprano Saxophone since 1973. In 2011 he received the NEA Masters of Jazz Award, the highest honor for jazz given by the United States government.
http://davidliebman.com/
David Liebman on Facebook
Back to top of page
Denmark-based Marilyn Mazur, born in New York, is a composer, bandleader and percussion- ist. She was active in the 1970's as a dancer, composer and pianist and switched to percussion and drums at 19. Since then Marilyn has been active as a member of the orchestras of ie. Miles Davis (from 1985-89), Wayne Shorter (1987) and Jan Garbarek (1991-2005).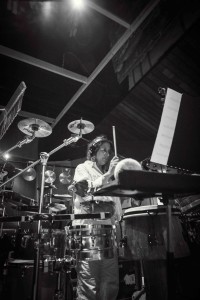 Marilyn creates and performs continuously in numerous exiting projects, specialising in large set-ups with instruments from most of the world. She leads her own bands and special projects, often based in Denmark. Besides these projects, she composes music for film, theatre, and more. In more recent years her music has been heard in Marilyn Mazur Group, Makiko Hirabayashi Trio, Celestial Circle and Zoom Trio. In 2008 Marilyn was Artist in Residence at the Molde International Jazzfestival, creating six different concert projects/constellations with her own music. Marilyn has recorded numerous CD with among others Palle Mikkelborg, Miles Davis and Jan Garbarek.
She has received many Danish and international awards during her carreer, ie. the Jazzpar Prize in 2001, Wilhelm Hansens Composers Award and, in 2010, the First International Eurocore Prize – JTI Jazz Award.
http://marilynmazur.com/
Back to top of page

LARS MØLLER
composer, conductor
The Danish saxophone player, composer and conductor Lars Møller (b. 1966) is a leading Scandinavian jazz figure. After living in New York 1987-89, playing with a number of legendary jazz musicians, Lars Møller spent several prolonged periods in New Delhi in the early 90´s assimilating the highly emotional Indian classical music. As a composer he delicately combines his knowledge of the American jazz tradition with the melodic Nordic tradition and a very broad awareness of European classical music. He is a truly contemporary jazz composer and musician, who easily includes electronica, choir and world influences in his music. The result is a unique lyrical and forceful personal expression. As artistic director of Aarhus Jazz Orchestra from 2012 to 2015, he successfully developed this professional big band (supported by the Danish arts Counsil) in to a creative voice of the 21st century – most notably on the "ReWrite of Spring" CD feat, David Liebman and Marilyn Mazur.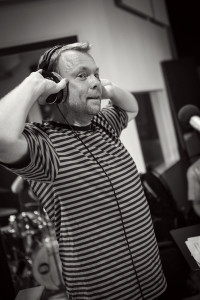 As a saxophonist Lars has played/recorded with Jimmy Cobb Group, Hermeto Pascoal, Jon Balke, Bobo Stensson, Anders Jormin, Martial Solal, Maria Schneider, Jim McNeely, Tom Harrel, Toots Thielmans, Katrine Madsen, Kasper Villaume Quartet, Sound of Choice Ensemble, The Danish Saxophone Quartet ("classical") 2005-9 and various other Danish artists. He has performed regularly as a solo-player with The Danish Radio Big Band since 2002. He has also worked as a composer and soloist with leading Danish and European orchestras including European Broadcasting Union Big Band, Copenhagen Philharmonic Orchestra and Athelas Sinfonietta, Copenhagen.
As a composer and conducter Lars has worked with EBU Big Band, Danish Radio Big Band, The Slovenian Radio Big Band and Choir, The Croatian Radio Big Band, Cologne Contemporary Jazz Orchestra and various Scandinavian Big Bands, Orchestras and Choirs. Performances in Europe, USA, China and Brazil. Artistic director of The Orchestra (Copenhagen) from 1997 to 2011.