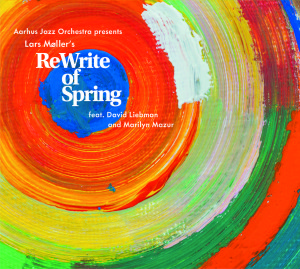 Aarhus Jazz Orchestra
feat. David Liebman, soprano saxophone and

Marilyn Mazur, percussion
A POT OF PAINT POURED OVER THE SPRING
by Christian Munch-Hansen
It is a dramatic story, the one about the young girl who dances herself to death as a 'spring sacrifice' in Igor Stravinsky's bold ballet and orchestral work Le Sacre du printemps/The Rite of Spring from 1913. It became one of the greatest succès de scandale of all time, shifting artistic, moral and existential perceptions in a European time and after-time that was soon to confirm the frailty, brutality and suffering of civilization.
The existential conditions have not changed today, a little more than a century after Le Sacre and Igor Stravinsky (1882-1971) has been a continued inspiration – in the jazz tradition too. He wrote music influenced by early jazz, including Ragtime (for eleven Instruments) (1918) and the Ebony Concerto (1945), intended for the Woody Herman Orchestra. In 1984, when Miles Davis was about to receive the Sonning Music Prize in Copenhagen, he was proud of featuring on the same list as Stravinsky, Bernstein and Shostakovich. And among great jazz composers and arrangers like Duke Ellington, Gil Evans, George Russell and Bob Brookmeyer there was a strong interest in modern composition music.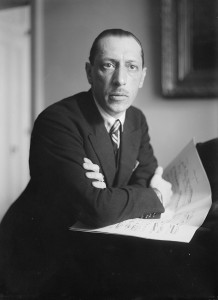 From this tradition too comes the saxophonist and composer Lars Møller (b. 1966), leader of the Aarhus Jazz Orchestra (AJO). On this CD release, ReWrite of Spring, he pays homage to Stravinsky's modern masterpiece. It is also Møller's most ambitious work to date, and his first major compositional contribution to the AJO since he became its artistic director and conductor in 2012.
"It's the most through-composed thing I've done and my biggest project so far. The whole work has an idea running through it, and is an expression of a kind of conceptual thinking influenced by Stravinsky. It isn't the plot of Le Sacre that has been the inspiration, it's Stravinsky's methods and techniques; the whole influence that Le Sacre and other works by him have had on jazz. He anticipated things that only became clear in the jazz tradition decades later, including working with complex rhythmic and harmonic layers. You could say that I have used certain building-blocks from Le Sacre and some points of impact with Stravinsky's universe. I haven't conceived the music in relation to the original drama of the work; all the same it has become very dramatic."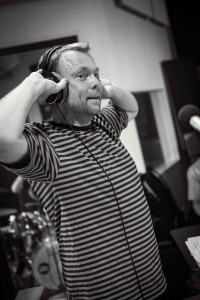 The recordings themselves also became a little drama. Shortly before his departure for New York the saxophone soloist Dave Liebman had to postpone his flight to Europe because of a death and a funeral in the family. Liebman did not reach Copenhagen until shortly before the concert at the Jazzhouse, and he went on stage with just a very short prior sound test with the orchestra! His contribution testifies to a masterly improviser's empathy and intuition.
"It had to be him," as Møller remarks. Back in the day, during a visit to Denmark in the eighties, it was Dave Liebman who met a very young Lars Møller. They embarked on a master-apprentice relationship and Liebman managed to convince Møller (and not least his family) that he should go to New York to study and develop as a musician. With ReWrite of Spring this relationship of many years comes full circle.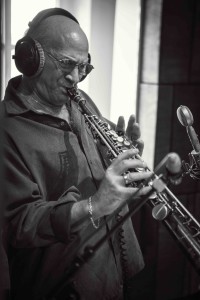 It is a work with great dynamism that Lars Møller has created. The potential of the big band is exploited right from the vibrantly sonorous introduction, where Dave Liebman's soprano sax paraphrases Stravinsky's original bassoon melody like a budding spring flower, accompanied by Marilyn Mazur's gongs and the orchestra's cautious horns, all the way to the lush orchestral waves that later wash over the music with dark energy.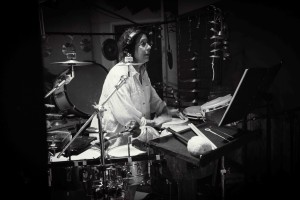 For Lars Møller ReWrite of Spring is the result of an extended creative process and the culmination of 20 years of composition work with big bands. Alongside wide-ranging activity as a saxophonist and touring musician in a number of bands, not least the Lars Møller Group, one of most pace-setting in the Scandinavian jazz world of the 90s, Møller has also pursued his ambitions in orchestral music and composition. He attended Bob Brookmeyer's composing course at Copenhagen's Rhythmic Music Conservatory in the mid-90s. In the same period he participated in the workshop 'The Third Way', where jazz composers worked with Athelas Sinfonietta and drew inspiration from classical composers like Bo Holten, Per Nørgaard and Pelle Gudmundsen-Holmgreen.
Lars Møller has been a member of a number of big bands including the DR Big Band in 2003-2010, and has had conducting jobs with European big bands including the radio jazz orchestras of Slovenia and Croatia and the Norrbotten Big Band. A special period was 1997-2011, when Møller was leader of the generational big band The Orchestra. This led to wide-ranging orchestral records like Noxx (1998), New Skies (2001) and Beats & Big Band (2003), and culminated with the tour de force Episodes (2011), which consisted exclusively of music by Lars Møller. Here too we find 'Folk Song No. 1', Møller's reworking of the Danish folk song 'Marken er mejet', which took First Prize as best big band composition at the International Jazz Composers' Symposium in Tampa, Florida, in 2008.
Lars Møller must be counted among the biggest names in Scandinavian orchestral jazz. He is not afraid to plunge into bold projects like writing big band music with modern composition techniques for The Orchestra, adapting the music for Scandinavian Laments (2006) for the DR Big Band and the experimental singer Jomi Massage, or letting the Aarhus Jazz Orchestra collaborate with Gambian and Indian musicians. And now it is all about the inspiration from Stravinsky.
Aarhus Jazz Orchestra is an institution on the Danish jazz scene, established back in 1977 by Jens Klüver under the name 'Klüvers Big Band'. which has been of great importance to the musical life of Aarhus and the western part of Denmark, just like AJO in subsequent years. He built the band up into a professional orchestra which interpreted both older and more recent big band music, especially in the American jazz tradition. Over the years Klüvers Big Band worked with among others Dee Dee Bridgewater, Thad Jones, Clark Terry, Bob Mintzer, Joe Lovano, Dennis Mackrel, Deborah Brown, Butch Lacy and Jesper Thilo. In 1988 the band became a 'rhythmic regional ensemble' with support from the Danish Ministry of Culture and from Aarhus City Council. With the money came a commitment to teaching activities with school concerts and the cultivation of new, young orchestral musicians.
It is this flagship that Lars Møller has taken over and which he takes further, still with strong roots in American jazz, but also with inspiration in world music and recent European music. "We are getting out into some new corners and I feel the artistic standard has been raised further," says Lars Møller. He emphasizes the development that the orchestra has undergone most recently. "We have worked a lot with rhythmic developments, and the band has a special tradition of sensitivity in ensemble playing. The musicians are able to play like they were a single organism. There's heart in the orchestra's sound, and room for character".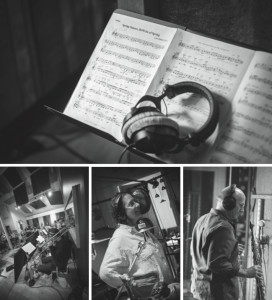 One distinctive thing about AJO is the absence of a permanent drummer. That makes it possible to play different projects with authentic idioms. Lately AJO has worked with drummers as different as Dennis Mackrel, Peter Erskine, Adam Nussbaum, Jeff Ballard, Bill Steward, Morten Lund, Jonas Johansen, Lars Daugaard and Emil de Waal.
There have also been projects with the master vocalist Kurt Elling, the guitar icon John Scofield and the late pianist Mulgrew Miller. AJO plays more than 70 concerts a year and still combines concert activities with educational projects and the presentation of music for children, young people and the elderly.
The first two parts of ReWrite of Spring were performed for the first time at concerts in Denmark in the summer of 2013, the centenary of Le Sacre du printemps, with Dave Liebman and Marilyn Mazur as soloists. In the autumn of 2013 the new work formed part of a concert and educational project with the AJO and Danish high school students under the name '20th Century Modernistic Masters: Stravinsky – Miles', where the two great icons of 20th-century musical history shared joint homage. As an extension of this the orchestra and the soloists recorded ReWrite of Spring at the end of September 2014.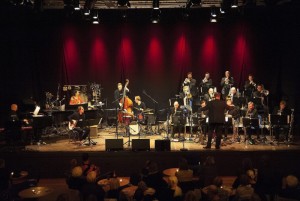 The music is presented in both a studio and a live version. Performance, length and expression are not identical. The live version has a particularly vibrant spontaneity and presence, including the special 'Introduction'. The studio version on the other hand offers greater potential for immersion in the nuances and details of the arrangements. And it begins without an introduction, with 'Evocation' (1st movement); on the other hand it has an 'Interlude' before the 2nd and 3rd movements.
'Evocation' (1st movement) takes its point of departure in a rhythmic-melodic figure from Stravinsky's 'Evocation of the Ancestors', which in Møller's ReWrite creates an ambivalent rhythmic feeling which at first seems simple, with Mazur's beautifully hand-played udu drum, but soon grow complex and expressive with Liebman's virile soprano sax and the orchestra's strong wind and rhythm sections. The tenor solo is played by longtime AJO player Michael Bladt. The movement ends with a nod to the famous polychord from 'Dance of the Young Girls', the brittle sound of an E flat major on top of an E major.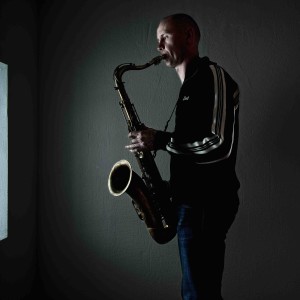 'Interlude', with its playing time of less than two minutes, is the shortest section of the work; an open, atmospheric interlude where the chords from 'Procession' (3rd movement) are repeated in a chant-like, questioningly insistent style by the winds in the low register, and with inspiration from Symphonies of Wind Instruments, another of Møller's favourite Stravinsky works. One senses that something is on its way.
'Spring Square' (2nd movement) sounds in its initial phase like ancient tribal music with Marilyn Mazur's shaman drums. The music also approaches the ostinato jazz that John Coltrane, not least, cultivated in his emotive and intense way in the 1960s. The basic musical figure is inspired by the ostinato Stravinsky uses in 'Spring Rounds'. The melodic material is developed in a sombre, atmospheric universe inhabited by moving intervals of fourths.
The concluding 'Procession' (3rd movement) has a more kaleidoscopic character with repeated motifs that are presented in smaller segments. Marilyn Mazur's beautifully coloured hand percussion establishes the mood, before an aggressive groove opens the way for solos by Thor Madsen (guitar) and Dave Liebman. The energy seems unstoppable, and the music is faded out. In the live recording the music is given extra colouring by starts and stops, and in its rhythmic intensity it approaches Miles Davis' electric music from the 1970s – a period when Liebman was in his group.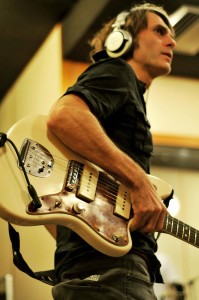 The great artworks of music are like enigmatic objects found lying along the roadway. Each new generation must pick them up and investigate them. Lars Møller and the Aarhus Jazz Orchestra have here painted over Stravinsky's rock and created new big band music with both beauty and primal power. Of the openness and inexhaustibility of the music Lars Møller says: "The contribution of the soloists corresponds to what the Danish painter Per Kirkeby has described as a necessary artistic openness to pouring a pot of paint out over a canvas you otherwise thought was finished".
Christian Munch-Hansen (b. 1969). Music critic, author, poet and teacher. Jazz critic on the newspaper Politiken since 2011 and the newspaper Information in 2001-2009. He has written and contributed to several books on Danish jazz. In 2014 he published the poetry collection, Musical Dream Machine.
AARHUS JAZZ ORCHESTRA
Saxophones and woodwinds
Nicolai Schultz (lead – alto, soprano, flute and alto flute)
Johan Toftegaard Knudsen (alto and clarinet)
Michael Bladt (tenor and clarinet – tenor sax solo on Evocation) Claus Waidtløw (tenor and clarinet)
Finn Henriksen (baritone and bass clarinet)
Trumpets and flugelhorns
Antonio Geček (lead)
Jan Lynggaard Sørensen
Jakob Buchanan
Rasmus Bøgelund
Trombones
Nikolai Bøgelund (lead)
Stefan Ringive
Niels Jakob Nørgaard
Henrik Resen (bass trombone)
Rhythm section
Thor Madsen (guitar – solo on Procession)
Mads Bærentzen (piano and keyboard)
Morten Ramsbøl (acoustic bass)
Morten Lund (drums)
David Liebman plays the soprano saxophone and wooden flute
Marilyn Mazur's set-up: udu clay pot drum, bells from all over the world, small Chinese tuned gongs, gongs (Paiste, Hubback and Chinese), gran cassa (bass drum), congas, timbales, Guinean dunun drum, temple blocks, various drums, cymbals, rattle instruments, chimes and singing metals
CD 1 recorded at FinlandStudio, Aarhus, 26-27 September 2013 by Morten Büchert Assistant engineers: Jacob Schjødt Worm and Morten Laursen
Mixed by Morten Büchert at Studio R
Mastered by Jake Burns at Loud, Nashville, USA
Produced by Morten Büchert and Lars Møller
CD 2 recorded live at Copenhagen Jazzhouse 25 September 2013 by Morten Büchert
Mixed and mastered by Thor Madsen at Mazza Mansion
Produced by Thor Madsen and Lars Møller
℗ & © 2015 Dacapo Records, Copenhagen
English translation of liner notes: James Manley
Graphic design of CD: Denise Burt, www.elevator-design.dk
Thanks to the Danish Arts Foundation, Danish Conductors' Association and DMF (Danish Musicians' Union) for financial support.
A special thanks to Dave, Marilyn, Morten B, Thor, Maria, Henrik, Kristian, Dorthe, Morten L, Frank, Jens, Poul Erik, Honning, Jacob, the dedicated musicians of AJO and everybody else who have contributed in making this long- time musical dream come true …
– Lars Møller
Dacapo Records, Denmark's national record label, was founded in 1986 with the purpose of releasing the best of Danish music past and present. The majority of our recordings are world premieres, and we are dedicated to producing music of the highest international standards.
Buy on iTunes
Buy on Amazon – Available as 2 CD digipak and download
Buy from Dacapo Records – 2 CD digipak and hi-res download